Sunday, May 15, 2005
Its been a long time since i blogged. Getting more & more entrenched into the daily routine of office life. I'm now in pune for the next 3 months or so. I would be driving my 6 sigma black belt project at the WNS branch here. Pune seems to be a nice city still trying to shed its traditional image and welcoming the modern.

Most of the guys have joined their respective companies by now. Hemant seems to have settled down in mumbai after finding an apartment in andheri. He is the only guy i have met so far. Himanshu must have joined in bangalor by now and Deepak joined last month in chennai. Mittal should be in pune by tomorrow. Gautam starts in delhi from tomorrow as well. All of us have been scattered far & wide for the time being.

Wonder when all of us will be together again.


Posted at 08:36 pm by prithesh
Permalink
Wednesday, April 13, 2005
Life in mumbai has not turned out to be chaotic as i expected it to be. I guess the credit should go to the company for taking such good care of me. I'm put up at the company guest house right across the office. The area in which the office is located; i.e. Vikhroli, is so unlike mumbai and the colony in which i'm staying has so many trees around that it reminds me of bangalore.

Anyway, i'm yet to find suitable acomodation here and i hope to find it by the end of the month. I would also be doing quite a bit of shuttling between the mumbai and pune offices so it should be fun. Also a wonderful boss and a great team here at WNS indicates that i'm going to have a great time here.


More updates whenever i get time.
Posted at 07:04 pm by prithesh
Permalink
Wednesday, March 23, 2005
The convocation for the 7th batch of IIMK students was held on the 19th. It feels great to be an IIM'ite now. It was a lovely function.
Mr. Kiran Karnik, President NASSCOM
was the chief guest. The diplomas were handed over to the students by the IIMK chairman
Mr. A.C. Muthaiah
.
Some pics of the event.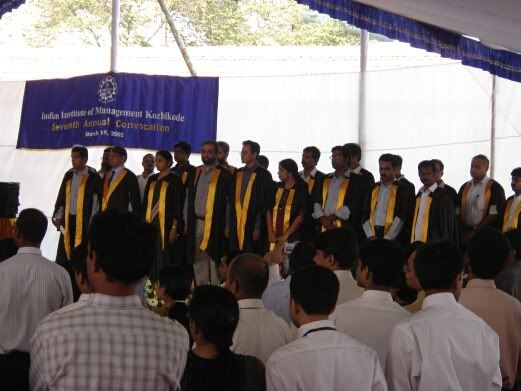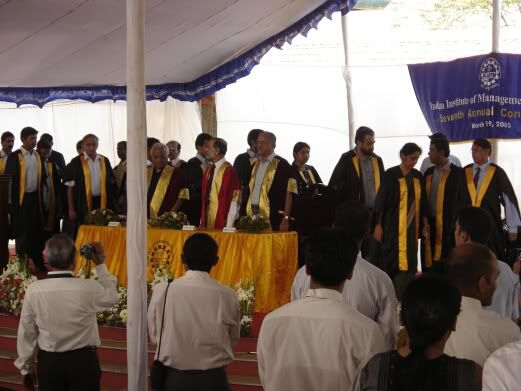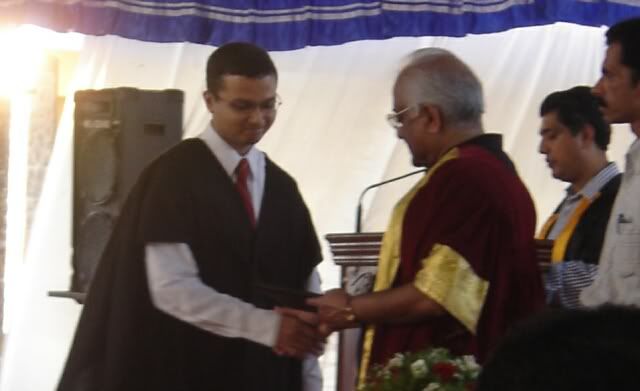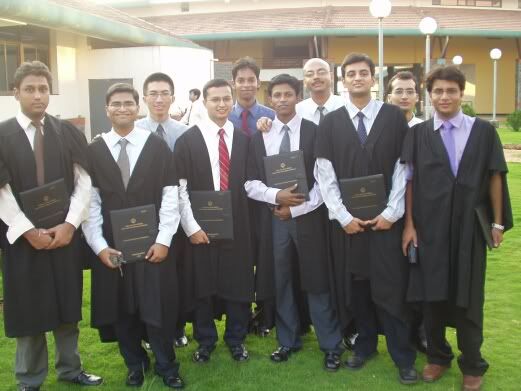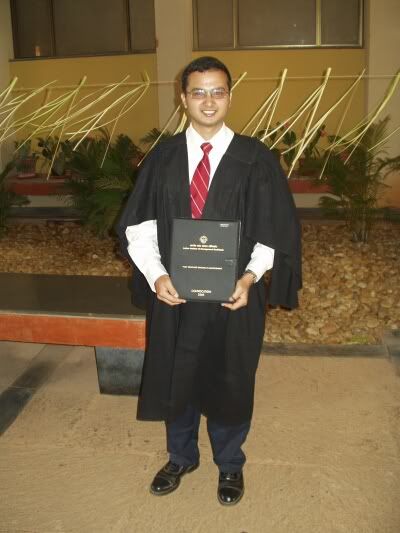 Detailed info abt the event can be found here.
Posted at 12:32 am by prithesh
Permalink
Friday, March 18, 2005
After a nice vacation at home doing nothing but eating and sleeping, i'm back on campus for the last time for the convocation which is scheduled to take place tomorrow evening.
The placements rocked this year at IIMK and the official placements report can be seen here.
So we party for a last time today evening before going our seperate ways. I will be joining WNS in mumbai from the 1st of April. Will be back with more news of the convocation tomorrow. Till then.
Posted at 05:58 pm by prithesh
Permalink
Sunday, February 27, 2005
i would be traveling quite a bit over the next month and a half so the next update whenever i find time.
Signing off
Posted at 08:00 pm by prithesh
Permalink
Sunday, February 20, 2005
The juniors threw a great farewell party for us. I guess its best that i let the pics speak for themselves.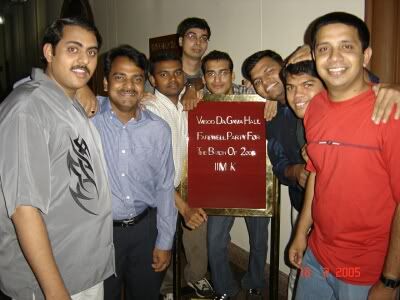 Party venue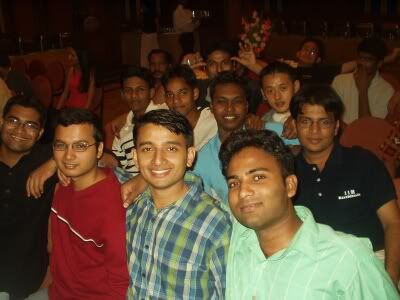 waiting for the party to start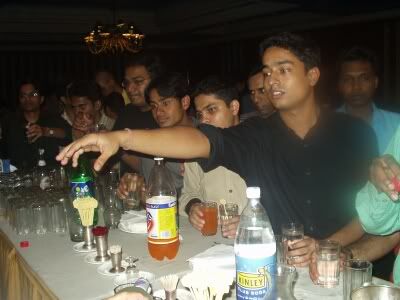 Party begins ;)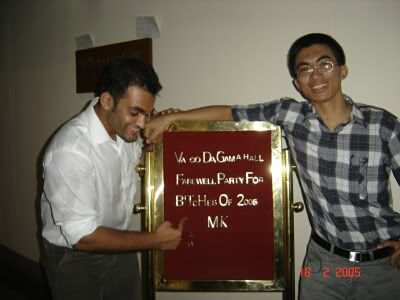 biyani & kima find this signboard more appropriate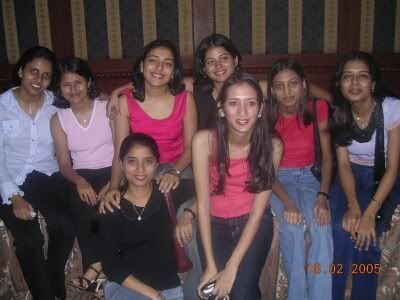 some glamour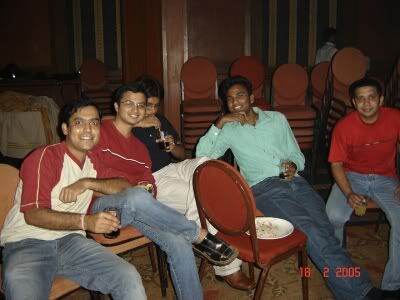 liquids are good for the body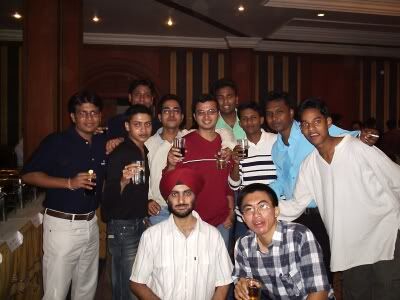 Cheers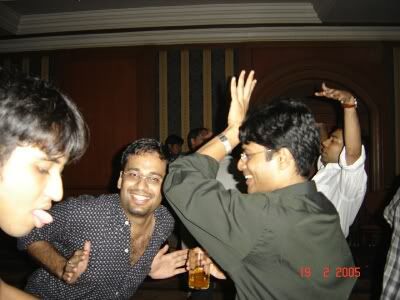 Xtreme dancing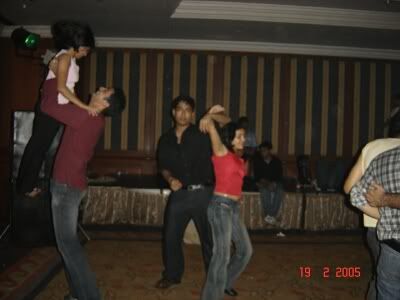 Some more...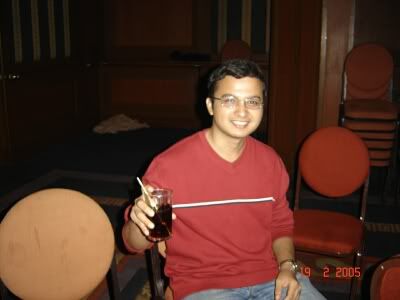 cheers....hic..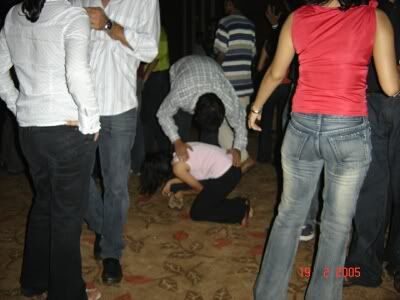 Uh?? whats going on here?...
A great party that went on well into the early hours.
On a more sober note........placements are upon us........so all the best batch of 2005.
Posted at 01:03 pm by prithesh
Permalink
Friday, February 18, 2005
I'm done with my last exam at IIMK. The last exam on rural marketing lasted just 30 minutes and had only one global question. So now i have nothing much left to do. Final Placements start from monday but i dont have too much of a role to play in it. It feels good to have finished two years of MBA..........all of it seems so easy in the end.
The juniors are throwing a farewell party for us at the Taj later in the evening so that should be fun. I have some inside information that some of my batchmates will be trying to make complete asses of themselves. More information on the farewell party will be given tomorrow :)
Posted at 03:10 pm by prithesh
Permalink
Saturday, February 12, 2005
It's been 3 weeks since my last post and it has been a hectic 3 weeks. A lot of work piled up after the mid terms as 75% of this term's classes were surprisingly scheduled in the latter half. Moreover the company PPT's almost daily where one had to listen to the same crap over and over again was tiring to say the least. The term ends on the 15th and thank goodness for that. I have managed to wrap up the countless term papers, assignments and various other submissions which are characteristic of the 6th term. A few loose ends remain, which I hope to tie up over the weekend.
A lot of things happened in IIMK over the last 3 weeks…….the details of which can be found on Nitai's blog. Moreover anyone interested in anything related to IIMK should visit his blog more often. I don't intend to stay here past these last 2 weeks and my fodder on IIMK would be provided by nitai and his blogs in the future. The final placements at K are just round the corner and most of the PGP2's are seen trying to make sense of all the knowledge that has been stuffed up our brain. A lot of PPO's and lateral offers have created a feel good atmosphere and with the kind of money being thrown around by the companies, IIMK placements this time should leave everyone happy.
Backwaters 2005 turned out to be a great event and it was obvious that the backwaters team had toiled for it. The IIMK alumni meet was scheduled during the fest as well and there existed a great festive atmosphere for those two days. I could not participate as much as I wanted to as classes were scheduled around the same time. Some moments worth remembering during backwaters have been the magnificent play by the juniors, the informal events as well as the amazing enthusiasm and energy floating around on campus. Here's hoping that the next backwaters is even bigger and better.
The series of parties on campus have suddenly sky-rocketed and why not? The hostel parties started with D hostel juniors being the first ones to throw a party for us. The hostel party rocked and other hostels soon followed suit.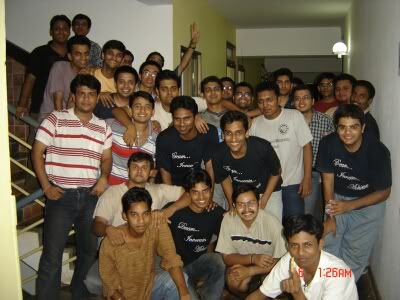 baKarD boyz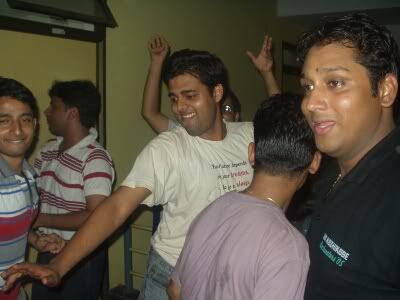 Parrrttttyyyy
The D-seniors can only repay the juniors by being the first hostel to throw the placements party (amen to that!!).
Another great thing that I have seen develop at K over the last two years is the Hostel loyalty and camaraderie particularly among D hostelites much to my delight. Most of my D hostel mates chose to return to the same hostel in the second year as well in spite of it being the farthest from the classrooms. Two years in D has been great fun and most of us wanted to get a hostel t-shirt done to express the unique D hostel identity. We have been thinking of a good slogan which could capture the essence of D. It finally dawned on me when I was writing an article for the year book. Two things which a D hostelite is known for is his thirst for bakar and bacardi……apart from other things of course, so the slogan baKar-D boyz emerged. T-shirts were printed in a jiffy and it was great to see the D-gang wear the t-shirts proudly. I hope this D identity and tradition is carried forward by the juniors as well and considering the fine bunch of juniors here, I have no doubt that this will happen. Ok, its time to end this long post now.
A last pic :))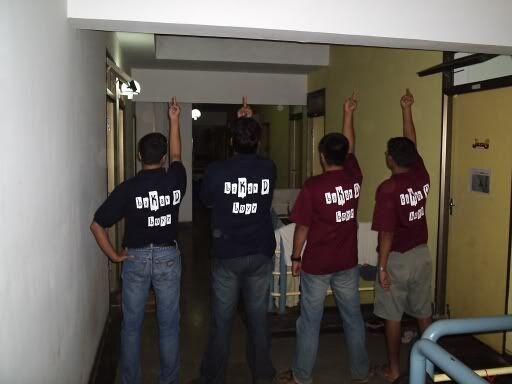 D's Detractors get this
Posted at 10:58 pm by prithesh
Permalink
Wednesday, January 19, 2005
Exams at IIMK often leave me stumped and i'm left pondering over my desire to pass out of here. I had one lousy mid term exam this time and i messed it up big time. The only consolation being more than half the class seemed to have suffered my fate. Luckily most of my subjects do not have any term end exam however these subjects have lengthy term papers which need to be submitted by the end of the month.
The PPT season has begun at IIMK and the buzz of final placements is palpable around campus. There were 3 presentations today and two more lined up tomorrow. It is pretty tiring to sit through the sales pitch by the companies. However some ppt's are quite interesting. I hope the early morning ppt tomorrow is interesting or half the auditorium would be dozing off.
Posted at 10:07 pm by prithesh
Permalink
Saturday, January 15, 2005
The CRM classes began yesterday. It was interesting to note how the attendance level suddenly hit the roof when the news about the prof spread. People who had dropped the elective rushed back in and people who were not foresighted (read: unfortunate) enough to take this elective wanted to know whether the registration was still open. Some people wanted elections to be held for being course co-ordinator. One guy dropped B2B marketing for this elective and was overheard saying how 'strategically' important this elective was to his career :). Of course, all this had nothing to do with how good the prof looked. Anyway, moving right on, there does not seem anything new to learn in this elective particularly after doing my summers at
Adapt
.
Gautam has been experimenting with capturing some psychedelic photos on his cam. Some of the snaps look good.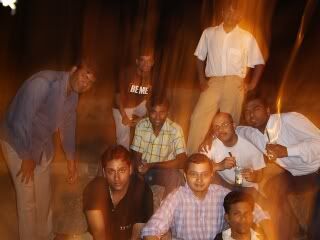 Midnight at the Beach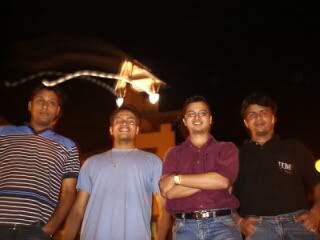 Below the IIMK Tower
Posted at 09:25 pm by prithesh
Permalink